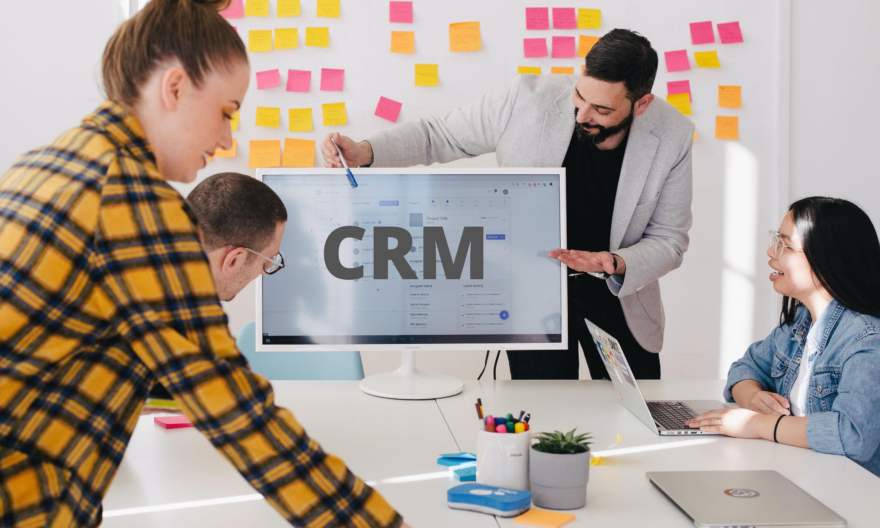 CRM – Customer relationship management. The full form of CRM is self-explanatory, manage your relationship with customers and grow your business. We can define CRM for business as a platform which helps us to increase our relationship with our customers and enable us to deliver better results to them. CRM mostly use in Business to Business (B2B) scenarios, where your customer base is significantly large. There are some free or open source CRMs also available in market.
What is CRM?
The definition of CRM gives a very abstract idea of it, I don't understand what it is? Examples are the best way to understand the concept. Let say I am an owner of a factory in which I produce raw clothing material for the clothing industry. My clients are giants like Louis Philippe, Nike, PRADA and Armani (just an example). From the past few months, I noticed that my revenue decreases and in past my client came up with a complains but due to wide gap of communication between us, we couldn't able to fulfill their requirement. How can I track their complaints? how can I track my revenue? Also, How can i serve my clients with great efficiency?
The one-word answer to the above questions is CRM. An ideal CRM solution enables us to deal with customers, their needs, their complaints, their suggestions, etc. With the CRM solution, I can track my customer's purchase history, I can manage their complaints easily, and provide a better solution. CRM removes the barrier of communication by providing automation in emails, text messages etcetera. CRM can do much more.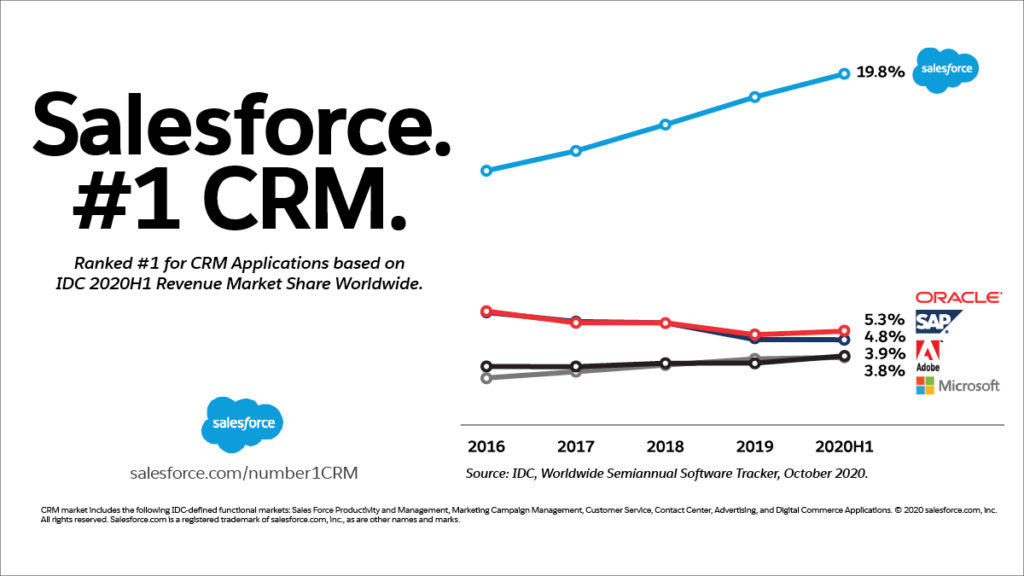 The CRM industry is so much huge, Oracle, SAP, Adobe, Microsoft, and AWS are the giants and salesforce is the number #1 among them. Salesforce has a monopoly over the majority of the market around the globe and it is increasing rapidly. Salesforce has been named #1 by International Data Corporation (IDC). It also holds 19.8% of the market share, more than combined of SAP, Adobe, Oracle, and Microsoft.
Features of Salesforce CRM
The success behind any technology is the features provided by it. Salesforce provides a vast range of fantastic features which helps your business to grow exponentially.
Reporting and Dashboard
Reporting and Dashboard is a key feature of any CRM for business. With Salesforce users can create great Reports to visualize their data. Salesforce is packed with different types of chart support like a bar chart, pie chart, line chart, funnel, and many more. Reporting simplifies the decision-making process by providing us all data in the desired format.
Lightning platform
The coolest feature of Salesforce. The lightning platform makes Salesforce worthy of number one. No other platform provides this kind of feature. The lightning platform is a component-based, client-side framework, which is meant to be run at lightning speed. Due to Component-based in nature, this platform does not communicate with the server every time and reloads the page, only necessary components will be refresh.
Flows and Automation
Automation is the most desirable thing when we talk about any technology and Salesforce just provides that with the highest capability of it. Salesforce provides many tools which makes your job easy like workflow, process builder, lighting flow and approval rule. Let us take one easy example, suppose I am a complaint administrator in my organization who receives customer issues daily. Here we face an issue of communication with the customer, every time we receive a complaint, I need to draft a mail. When we solve the issue, I need to draft a mail again and send it to the customer. This is tedious more than time-consuming.
In this case, I can use the power of salesforce automation, I can simply create a workflow rule which specifies send email to the customer when complaint received and complaint solved, Super easy. Customer will get their notification email from time to time, I don't need to worry about it. Flows and Automation can do much more than this, this was a simple example.
Salesforce Einstein
It is said that the next industrial revolution will be in the field of Artificial Intelligence and Machine learning. Here Salesforce Einstein platform plays a key role. Einstein platform is going to prove itself a key feature for Salesforce. With the help of this feature, we can train the AI models on salesforce data and predict the outcome of it, which helps the decision-maker to take key decisions for an organization.
Cloud-based Platform
This is the most fantastic feature of salesforce. By providing cloud technology Salesforce ensures that the users perform their tasks smoothly from anywhere in the globe. The only requirement is good internet speed. Other advantages are also awesome. Being a cloud provider Salesforce is fully responsible for uninterrupted service, support, and security.
Development Support
Salesforce provides Apex programing language for customization. Sometimes such challenges are rise in which normal configuration and administration would not work, in these scenarios we need developers, who provide a solution. Salesforce supports Apex(back-end), Visualforce(front-end), HTML, CSS, javascript and other web technologies.
Salesforce Communities
Again, Communities are a key feature of Salesforce. The main purpose of Communities is to connect with customers, partners, employees, and prospects. We can visualize communities as websites or web portals on which customers, partners, prospects perform their activities. Creating communities from Salesforce is super easy. We need to perform just a few steps to create it.
AppExchange
AppExchange is a Salesforce store. This is very similar as downloading plugins to your development environment, but this is only meant for Salesforce. On AppExchange we can find cool stuff like ready to install solutions, different apps, lightning components, flows, etc. We can add all these utilities into our Salesforce environment very easily. Few of the utilities are paid, and few of them are free. With the power of AppExchange, we can extend our existing functionality or insert a new one.
Mobile-First CRM
Salesforce has always given a priority to Mobile. Users can access Salesforce from mobile, they don't need to do anything, just download the Salesforce1 app from the Play store and you are good to go. The most prominent advantage of Salesforce Lightning is that we don't need to develop or write code for the Mobile platform separately. A component-based framework takes care of it.
Trailheads
Trailhead is a learning platform of Salesforce. This platform covers every area of salesforce and offers module vise learning which is fantastic. With the help of trailheads, Users can train themselves in their area of interest.
These are the very few features among many which make Salesforce the number #1 CRM for business in the market.