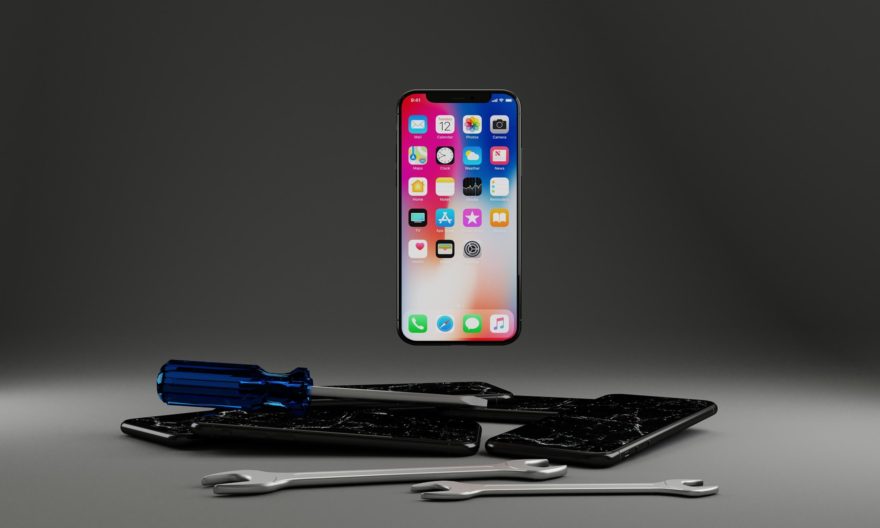 When we think about security in any smartphone first thought in anyone's mind is iPhone security. In this world, cyber attack and data branches are very common and it is very essential to secure your iPhone first. Do you know how many secrets or secure information your iPhone reveals when it goes to another stranger's hands? It can reveal your photos, iCloud data, Financial information, and many more which you don't even know.
Top 10 Ways to Secure iPhone
Here are some ways to secure your iPhone from unauthorized users or attacker :
1. Set a strong passcode
Make sure don't use your birth date, phone number, or any other dates which are known publically in your passcode.
This is the simplest way to protect your iPhone's data. You have 3 options to choose while setting up your passcode.
Custom Alphanumeric Code (Recommended)
Custom Numeric Code
4-Digit Numeric Code (Not Recommended)
How you can change your passcode from the iPhone?
Go to "Settings"
Select Face ID and Passcode or Touch ID and Passcode
Select one from 3 options mentioned above.
2. Set Two-Factor Authentication for your Apple ID
Two-factor authentication is like second layer protection to your iPhone. When you are signed in to a new device for the first time at that time this will be more useful. You have to add your password for iCloud and a six-digit verification code which you will receive on your mobile number. After entering a code you are trusting a new device for your iCloud account.
How to setup two-factor authentication on iPhone?
Go to "Settings"
Select Passwords & Accounts
Click on iCloud
Select Passwords & Security
Enable Two-factor verification
Add and verify your mobile number
3. Protect your SIM card using PIN
This is the best way to secure your iPhone's data when it's stolen. You can protect your SIM card from others when they use it for calls or for cellular data using SIM PIN. Whenever you restart your device and change a SIM or add a SIM to a new device you can see in the status bar that your SIM is a lock.
How to protect your SIM card using PIN in iPhone?
Go to "Settings"
Click on Mobile Data
Select SIM PIN option
Enable that option and set a PIN to your SIM card
4. Don't use the same or common password everywhere?
If you are using the same passwords in every apps or every website wherever you logged in then don't do those things from now onwards. The major problem with this is if anyone has your one password with them then they can try that password anywhere in your iPhone and check your private data. From iOS 12 we have one new feature called iPhone Password Manager which stores all your login passwords from any websites or any apps in one place. It can check all your stored passwords and inform you about duplications.
How to change your iPhone password which you are reusing everywhere?
Go to "Settings"
Select Passwords & Accounts
Click on Website & App Passwords
If you are reusing any passwords in multiple apps or multiple sites then you'll find a warning symbol over there.
Tap to change the password for that particular thing
5. Think twice before granting any permission inside any apps
Your mobile apps provide you many kinds of multi-purpose functionality. Whenever you grant any permissions like location, photos, camera, microphone, etc… inside any applications you allow them to use your iPhone's data and you are not secure at that time. So it's worth it to think for 2 minutes before granting permission is that permission needed or not?
If you think that you grant permission which is not necessary you can any time revoke that permission from that particular app at any time. These are the steps that are helpful to check your's iPhone's which app is using which permission.
Go to "Settings"
Select any app which you need to verify your permission for that app
If you wish to disable any permission which is not needed you can turn it off. Don't worry if you need it again you can grant that permission again
6. Hide notification previews when iPhone is locked
Any kind of passwords won't prevent your data if you show notification on lock screen. When you receive some messages which contain your bank account OTP or some data which we don't want to show to any strangers at that time this feature is very useful.
The more you show any notification to your lock screen you lose the safety of your data.
How to hide notification preview from iPhone home screen?
Go to "Settings"
Enter Passcode.
Go to Allow access when locked.
You can turn off unwanted notifications.
7. Disable Siri feature from lock screen
iPhone has a nice personal assistant which can give you some information from your phone whenever needed. Don't completely turn off that feature but just put one extra layer of safety on your device by disabling it from the lock screen. Don't forget one thing that Siri can communicate with any stranger with the "Hey Siri" command.
How to disable Siri feature from your iPhone lock screen?
Go to "Settings"
Select Face ID and Passcode or Touch ID and Passcode
Go to Allow access when locked
Turn off Siri
8. Disable auto-join with wi-fi networks
Whenever you connect your iPhone with wi-fi or any wireless network it will remember this wi-fi and save its password for future use. That's why when you again connect with same network it connects automatically.
Though it is a good feature because it saves much time of yours. You don't have to add that hard and forgettable password again and again. However, it could create trouble for you. As an example, if you visit a coffee shop and you connect to their network but whenever you again visit that shop again you automatically connect to their network. So there is a chance that cybercriminals create some network and you sometimes automatically connect to a public network and they can do some miscellaneous things into your device.
How to disable auto-join with wi-fi networks in your iPhone?
Go to "Settings"
Select wi-fi
Select Ask to Join Networks
You can select 2 options 1)Notify 2)Ask
If you select notify it will notify you if no known networks are available
If you select Ask it will every time ask before joining wi-fi network
9. Enable find my device setting
Find my Phone is a lifesaver when your iPhone gets stolen. If you enable find my phone and access your apple id from another Apple device then you are able to erase all your iPhone's data so no one can access your data.
How to set up Find My Phone setting in your iPhone?
Go to "Settings"
Select on Your name or AppleID.
Go to iCloud.
Scroll to the bottom and select Find My phone.
Turn on that setting and send the last location of your device
10. Keep your device updated
Keeping your iPhone up to date always increase the security of your device from malware and hacks. If you keep your device up to date then 99% you are safe from hacking.
How to check for updates in iPhone?
Go to "Settings"
Select "General"
Click on Software Update
It will check your device is updated or not
If not then you can download new update and restart your device
Take away
Just keep one thing in mind that doing every step which is mentioned above is very helpful to secure your iPhone and protect your data from strangers and cybercriminals. It's not compulsory to follow every step which is described you can choose on your own which thing you are ready to sacrifice for the sake of your data security.
These are some basic things which you have to follow to secure your iPhone
Set stronger password
Monitor your device privacy settings periodically
Reduce your iPhone's screen lock timing
Compared to other mobile platforms, iOS, the world's leading mobile operating system, has reported very few security threats and attacks. Let 's keep all these points in mind and make our iPhone data much safer.
Hope this article helps you in securing your iPhone.
Do you have any other tips to secure the iPhone? Let us know more in the comments section below!