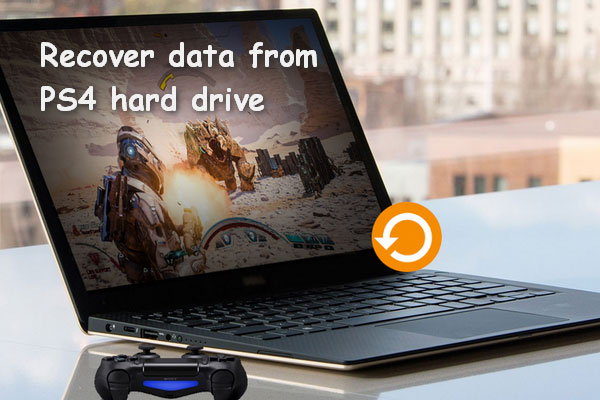 What is PS4? To be specific, PS4 (PlayStation 4), designed by Sony Corporation, is the eighth generation of home video game console. It enjoys a great popularity among a large number of home game lovers since 2013, its first release. In a word, the PlayStation 4 has been acclaimed by a lot of players.
PS4 Save Data Loss
As the internal memory of PS4 is limited and the increasing demands for online and offline games, many people may add an external hard drive to PS4. But unfortunately, some of them claimed save data of PS4 would get lost from both internal memory and external hard drive every now and then.
In fact, various causes can lead to a data loss from PS4, such as human deletion, virus attack and power failure. According to an investigation, many PS4 users are wondering how to recover data from PS4 hard drive effectively.
Here is a case from PlayStation help forums:
Hi everyone. Please help me! I dropped the controller on the playing game screen. Then, it hit X button to make my game missing instantly. I spent one week on the game on level 51. It's awful. Can anyone tell me how to recover the save data if it is possible? Thank you so much!
Considering this, we decided to show you some useful ways to recover data from PS4 hard drive in different cases.
Recover Data from PS4 Hard Drive in 2 Cases
There is no doubt that PlayStation 4 is the video game trendsetter. However, the data loss is still inevitable due to many reasons. In this section, we'd like to walk you through the practical ways to recover data from PS4 hard drive with the help of MiniTool Power Data Recovery.
1. How to Recover Deleted PS4 Data
Follow these steps, and you can complete PS4 data recovery after accidental deletion.
Step 1: Choose a suitable edition that can meet your demands best. Download and install it on your computer. If you need to pick out an advanced type, you may purchase the license code and then register it. If you just want to have a try firstly, you may as well choose the Trial or Free edition.
Step2: Connect the PS4 external hard drive to the computer and open this data recovery software.
Step 3: Select This PC recover module. Find the PS4 drive from the drive list in the right pane.
Step 4: select the PS4 drive to full scan by clicking Scan button. Or you can double click on the PS4 drive directly to conduct a full scan.
Step 5: After the scan finishes, you may use the Settings button to specify file types to recover certain data, like doc, MP4 and AVI. If you find the deleted data like captures you need, just select them and click Save.
Step 6: specify a destination to store the recovered PS4 data. This destination should be different from the original one that saves the PS4 data for fear that the lost PS4 data would be overwritten and become unrecoverable.
In the end, a prompt window will appear when all the selected PS4 data has been recovered to the specified drive successfully. Click OK to close the software.
2. How to Recover Overwritten PS4 Save Data
First of all, you need to confirm whether the lost PS4 data was really covered or not. There are usually two situations.
Situation one: if you didn't save new data to the drive that contains the lost PS4 data, it is very likely that the original data was not overwritten and was kept intact on the drive. As system has marked it as deleted and available to use, you can't see it. To recover it, you can use the same method as mentioned in the previous part.
Situation two: if the external hard drive of PS4 has been wiped and overwritten with zero and one by using some special software, the PS4 game data would be lost permanently. There is no need to use a recover tool to scan the drive for lost data in this circumstance.
Protect your PS4 game data in this way:
Open your computer Settings.
Locate and select Application Saved Data Management.
Choose the option Saved Data in System Storage.
Select the wanted game and click Upload and wait until the end.
Last Words
It's commonly seen that saved data get lost from PS4 hard drive for various reasons. But good news is that as an ordinary user, you can recover data from PS4 hard drive with ease. That's all we want to tell you about data recovery of PS4 hard drive game saves. Choose the suitable method according to your condition.
Also Read: Next Generation Gaming Consoles: Xbox Series X and Sony PS5