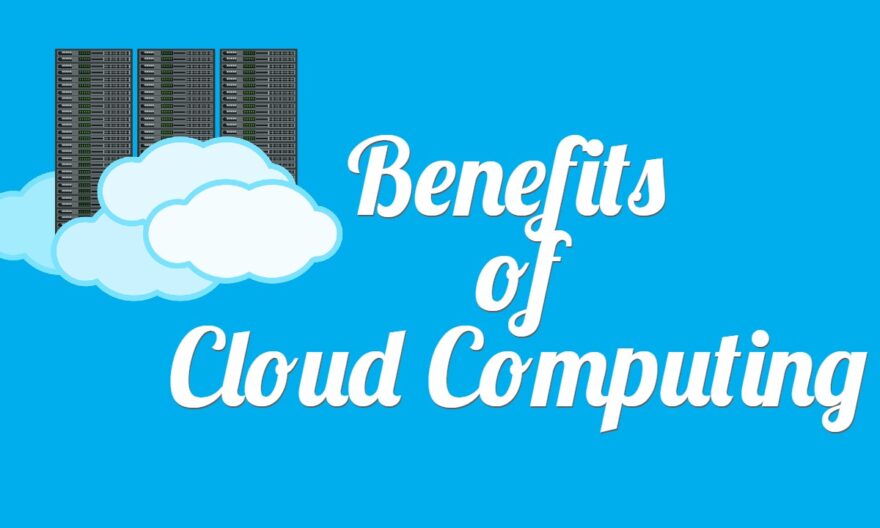 The International Data Group Report states that "There are 69% of businesses today that use cloud computing in one form or the other.  Additionally, another 18% claim that they are planning to incline towards cloud computing."
What is Cloud Computing?
Simply put, Cloud computing is the computing that works through the internet. It means all your hardware and software are delivered to you through the internet based on your requirement. So, when you use the cloud, you don't need to keep your data stored in your files, folders, or computers anymore. You can now store it in an abstract cloud and retrieve it whenever you need it. But What is Cloud? Does your data and resources are there in cloud in reality? No In short,
Cloud is just someone else's computer with on-demand availability of high-computing resources that are expanded over multiple regions.
Top 5 Benefits of Cloud Computing
After two decades of service, cloud computing has already made its place in the market. The tech-savvy businesses have realized its importance and are making use of it to benefit themselves. But why is cloud computing so popular? Why do we need cloud computing?
To answer that question here we explained top 5 benefits of cloud computing :
1. Cost-effective
With so many benefits of cloud computing, you might be worried about your budget. That's actually the best part here. Many times, there is a possibility that we purchase the software and hardware but don't use all its features and still pay for it. But in cloud computing, you only pay for the services you use. It means you invest less and get more returns.
Once you opt for cloud computing, you no longer need to invest in different hardware and software. Therefore, you get rid of maintaining the local servers that can save both time and energy.
Another noticeable point here is that cloud computing eliminates downtime. Now, what does downtime mean? There are times when your computers are inoperative because of some technical issues, failures, or other factors. But none of this occurs with cloud computing. So, you see that with cost, it also saves your time and energy.
2. Scalability
What do you do when you get more clients but do not have the resources to help them? It will only lead to client loss. But with the cloud, you no longer need to disappoint your clients.
If your business grows, you can extend your cloud capacity by paying the amount for the extended cloud. Similarly, if your business contracts, you can also scale down the cloud capacity and pay less. So, when your business is low, you don't pay for the extra resources and save yourself from loss. Scalability is one of the main benefits of cloud computing. It helps you grow while extending the capacities as per your requirements.
3. Automatic software updates
The cloud service fee also includes the amount for automatic software updates. Thus, depending on your service provider, the software and the system will be automatically regularly updated. With constant updates, you can only focus on delivering your product efficiently. The cloud introduces new features on a daily, weekly, or monthly basis as per the need of the software. It makes your work easier and more efficient.
4. Loss Prevention
If you're not using cloud services, we expect that you store your data on your local computers. They work fine for you. But what if the computer hardware goes through some problems and all your data is lost? What if your laptop gets stolen? After a certain point of time, the hardware also deteriorates that can lead to data loss.
All these factors can cause you trouble because there will be no data left. The data stored locally gets destroyed with the device. But when you store your data on the cloud, you can retrieve all the data back on any device. You only need an internet connection and correct user credentials to gain access to all the data. This way even if any of the malfunctions take place, your business still gets going. Most of the cloud providers also offer data replication services across different regions and zones. It helps us to retrieve the data in case any disaster struck in a particular region or zone.
5. Collaborative approach
Different departments work on the same project. Within the department, you know who has done what work and, the file-sharing process is also easy. But when there are too many people involved in a particular project, often big mistakes take place. While sharing the project files, you may miss out on the original file and send the other one by mistake. And then, the whole project is delayed. Also, only after one person has finished their task, they can hand the file to the other one to start their work.
For such problems, cloud computing provides the biggest benefit. Multiple people can have access to the same file. It means you can save a file on the cloud and share it with your team members. By this, you can also monitor who has done what works at what time to avoid confusion. Simultaneously, others can work on the same file too and save the changes.
If needed, you can also create different cloud environments for various projects or purposes. Cloud computing encourages the collaborative approach of working and makes sure nobody steps on each other's toes.
Conclusion
So far, you have learned about the five main benefits of cloud computing. But if you dig deeper, you'll realize it also provides you with optimum security from hackers and data theft. You can also work from your desired location at your desired time. You will have all the control of your data. So, using cloud computing brings you forward on the competitive edge.
We need modern solutions for modern problems. Therefore, we are glad that cloud computing has become our savior in this digital era. The enterprises have understood its importance and have started to incorporate its usage in their day-to-day life. To know more, refer to The top cloud computing service providers.
What are the other benefits of using cloud computing? You can share your experience with us in the comment section below. Feel free to write to us in case of any suggestions or doubts.