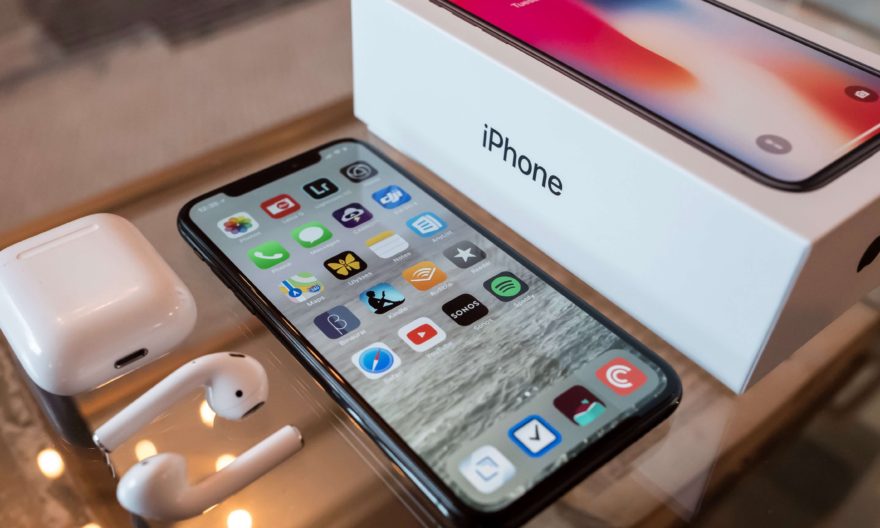 Image Credit : Unsplash
While the next iPhone launch is still days away, we've started hearing early rumors of what the iPhone 12 could look like. If we're on previous trends, Apple will release a 12, 12 Pro, and 12 Pro Max. The iPhone 12 is to be the cheaper iPhone of the Apple iPhone 2020 series. It is expected that Apple will be releasing iPhone 12 in September 2020 (Time Flies event) and due to this pandemic, it will be available in Apple stores from next week or in October. Some rumors also suggest that new four iphone12 models are most likely to release on 12th October.
The new iPhone is expecting to feature a 5.5-inch LCD screen size. It can come with an Apple A13 Bionic chipset and can run out of the box on iOS 14. Moreover, iPhone 12 is expecting to drop the original design for an all-new look, as well as add 5G connectivity across the board. Apple's highly awaited A14 Bionic processor, and, specifically, LiDAR cameras for the Pro community. The 120Hz displays of the Pro models are in limbo dependent on leaks.

iPhone 12: Price Expectations
We expect Apple to adopt the same pricing with the iPhone 12, Pro, and Pro Max models as they did for the iPhone 11, Pro, and Pro Max models. It will start at $699 with the standard model while the max Pro and Premium models are $999 and $1099. Also, the price will rise with capacity added.
New Apps of an iPhone 12
The iPhone flag is to be the first iPhone to have 5G connectivity by 2020. There's even a new way out of filing the apps called the App Library.
iPhone 12 Features
It has been speculating that the flag iPhone will be the first iPhone to feature 5G connectivity in 2020. We expect 5G access to power several new purchases of your iPhone by 2020. It also speculates that both the mmWave and sub-6GHz bands will support the 5G iPhone models. There's a variant of the LCP antenna that first made its way to the iPhone X in 2017, but didn't fully roll out to every iPhone user. A suitable substrate for antenna technology is the liquid crystal polymer (LCP). This works reliably across various temperatures and has very low loss resulting in a strong performance for 5G technologies.
It also predicts the next iPhone will have Apple's unique A14 chip.
Design changes in iPhone 12
Notch
The notch contains essential sensors-for example those for Face ID-and eliminating it would, of course, raise design issues. The front notch will be smaller and the Face ID will support a wider angle. The size of the notch is smaller than it was.

Cameras
The flash will be placed in the center. A big-zoom periscope lens is also discussed, but it is not expected to appear until 2022. The cameras are only at 12 megapixels. However, they have a range of improvements including faster autofocus, better low-light performance, more accurate portrait mode, 3x optical zoom on the telephoto lens, and more. The phone's microphone would have enhanced the audio zoom and more accurate beam creation.
Screen size
The 2020 iPhones will come in three screen sizes: the standard versions will be 5.4 inches and 6.1 inches, the Pros will be 6.1 inches and 6.7 inches.
The death of Lightning
Finally, Apple is giving in and replacing its patented Lightning port with USB-C. No Lightning port, no USB-C, and no buttons on iPhone. It's not clear if all of the iPhones launching in 2020 which will get the latest braided cable as in 2019, the USB-C to Lightning cable was limited to the higher-end, more costly iPhones.
Colour options
We can also expect a new colour: navy blue for the iPhone 12 Pro handsets. They also list iPhone 12 models in some more colours like:
light blue
violet
light orange
Charging
Apple's decision to remove the charger from the box to reduce costs. The 20W charger will be identical to the outgoing 18W version and will be compatible with USB-C and capable of charging quickly. Fast-loading adapters delivered along with iPhone 11 Pro smartphones.
Leaked photos, illustrations & videos
They seem to indicate a circular arrangement of 36 magnets whose function is unknown at this time. Although they may intend to work with the upcoming wireless charging pad from AirPower or allow the phone to act as a charging pad on its own. iPhone 12 models, clearly displaying the three different screen sizes and the relocated SIM trays to match the 5 G antenna. They only have dual- and triple-lens rear cameras, instead of the triple-lens-plus-LiDAR cameras expected on the iPhone 12 Pro and Pro Max. Allegedly-is a motherboard photo that is to be used on the iPhone 12. It's L-shaped and this configuration takes the 12 closer to the iPad Pro versions of 2018 and 2020.
Other new features in iPhone 12
3D camera
Current iPhones already feature 3D cameras used for Face ID facial recognition, making it more difficult to sell this as a breakthrough or flagship product. It'll have a range of around 15 feet, the site estimates, compared to only 25-50 cm on the iPhone X series and 11. It will be using to scan the area, while the present 3D scan is applied to the user's face.
Touch ID
To offer the Touch ID on the iPhone 12, Apple would need to embed the sensor in a different location than the Home button. It could be under the glass of the screen.
No Earpods
Apple can leave EarPods out to boost demand for its AirPods and reduce iPhone 12 costs. To promote AirPods to iPhone users, Apple could provide some kind of promotion to AirPods by the end of 2020, maybe providing discounts to customers who buy a new iPhone.
Battery
Apple suppliers are working on a new battery safety module that is 50% smaller and thinner than the same feature in previous iPhones. That could have freed up precious space on the iPhone. Certifications for three batteries for Apple's iPhone 12 models indicate that the iPhone 12 lineup will be using batteries with lower capacity than the batteries in the iPhone 11 models.
Expected Key Specifications of iPhone 12
Processor A14
5.4in/6.1 in OLED Super Retina display (6.1in/6.7 in OLED 120Hz ProMotion on Pro models)
4 GB of RAM (6 GB of RAM on Pro)
128GB/256 GB of data (plus 512 GB on Pro)
5G
Double lens rear camera (triple-lens with LiDAR on Pro)
Conclusion
2020 will be the first year that Apple will add 5G support for the iPhone.The new iPhones arriving in 2020 will feature a massive redesign with a metal frame similar to the iPhone 4 or iPad Pro models. It also helps new users to link to 5G networks that are much faster than 4G LTE networks. According to reports, all iPhones in the iPhone 12 range would have 5G connectivity. However, it reports mmWave speeds can be limited to Pro models in certain countries.
Based on the rumors surrounding the iPhone 12, Apple's 2020 software update sounds like a promising one. It seems that the greatest changes will be in the areas of 5G connectivity. In addition, support for augmented reality apps with a time-of-flight sensor for 12 prime iPhone models. In conclusion, keep an eye on the new update of the iPhone and be the first person to get the most heated experience and exposure from apples.