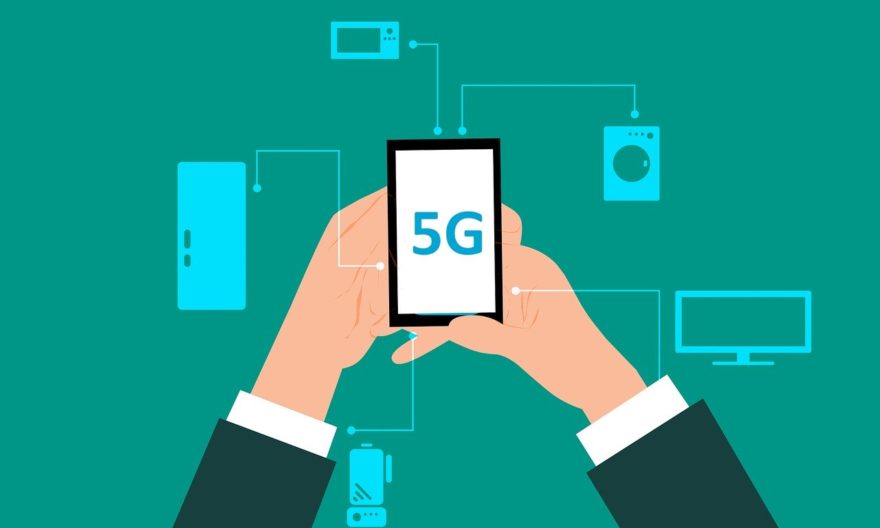 Internet nowadays becomes the basic requirement of our livelihood. From searching basing things on Google, using Facebook, WhatsApp or watching movies on Netflix everything requires a network. 5G is the new revolution of the internet which interconnects people, machines, device and objects.
What is 5G?
5G is a 5th generation network which comes out with more speed. It is an update of the previous version which connects people and able to control machines, devices and objects. It will usually provide you efficiency and also will provide the user a new experience. 5G revolution helps in connecting new industries which will help in education, transportation and automobile industries. it is expected that 5G provides 1gbps speed.
Use cases can be seen in 5G
One of the most promising features of 5G is that it will enhance mobile broadbands. Our smartphones will be more smart and it will provide us better experience in cost per bit, VR and AR and data rates will be uniform.
5G revolution will also provide new technologies to the industries. One of the major plus points is that industries will be reliable.
Internet of things enhancement will be there. 5G will provide a large number of sensors which are embedded sensors for the virtual world. It will also provide solutions at a low cost. It will also provide future support for services.
Speed and frequency requirement
The frequency spectrum of 5G uses millimetre wavelength and enables 28 gigahertz frequency. If we talk about 4g, it uses 400 megahertz to 2,500 megahertz frequency. It will be providing us with a speed of 20 Gbps which is much faster than the 4g network, about 20 times. 5g work on radio frequencies and their spectrum includes 3 kilohertz and 300 gigahertz. 4g takes 20 to 30 seconds for information to travel between origin and receiver while 5G takes 10 milliseconds. It is expected to be 10 to 100 times faster than existing 4G LTE network.
5G vs 4G
Let's look at some of the key differences between 5G and 4G.
5G allows you to send data more efficiently than 4g.
5G network supports connections of devices higher than 4g and it is based on reliability.
The speed of 4g is between 300 Mbps to 1 Gbps while 5G offers 1 Gbps to 10 Gbps.
The average speed offered by 5G will be 50 Mbps which is higher than 4g.
5G takes 10 milliseconds for travelling of information while 4g takes 20 to 30 seconds.
How do 5G works?
5G uses cell sites which will be divided into factors and territories and send data with the help of radio waves. It is supported by a wireless connection as a backbone and it will use encoding OFDM. It provides more flexibility than the LTE network used by 4g. 5G speed will be 10 to 100 times better than the previous version and it is designed for larger channels.
What did we expect from 5G?
5G provides a great impact on the world by providing a good amount of speed required for daily activities. 5G infrastructure will reach 4.2 billion dollars in 2020. It will enhance mobile broadband and it will take a few seconds to download high-quality movies. 5G revolution will provide a better wireless experience. Within a few years, it will be present in every industry, town, business.
The difference in 5g vs. 5g E vs. 5 GHz
This technology is similarly named but they are different. The major difference between these three is that 5G E is a marketing strategy used for 4G LTE. 5G is a fifth-generation which is a new cellular standard with the upgrade of speed and technology than 4g. If you talk about 5 gigahertz, it is a networking system for short-range and a Wi-Fi frequency band. Wi-Fi is nowadays using 2.4 gigahertz and 5 gigahertz, frequency band.
5g network in the world
Till now Germany, United States, South Korea and the United Kingdom are first 5G network countries which are providing the fifth-generation mobile networks. They have developed a 5G network and multiple companies are using it.
If we talk about China three Chinese operator takes only 5 months to activate 5G licence and providing their service is $18 per month. It is believed that by the year 2025 36% of Chinese users will use 5G.
In South Korea, SK Telecom and Korea telecom provides 5G network to the country. They believed to be the first mobile carrier to launch 5G services.
USA
Verizon surprised the world and launched 5G network in April 2019 in the USA. Till now it has reached 31 cities which includes New York City, Chicago, Dallas, Atlanta and Los Angeles. It has more plans of extending it in major cities of the country.it is getting 1.4 Gbps speed till now and is compatible for phones like Samsung galaxy note 10 plus 5G and moto z4. T-Mobile and AT&T also launched its low-band 5G services on the first week of December 2019.
UK
5G services in the UK is provided by EE. Till now it has reached many towns and cities like Liverpool, Manchester, London.it is currently providing speed of 200 to 400 Mbps. 5G in these areas are compatible for Samsung Galaxy S10 phones.
India
In India, till now people are using the 4th generation network which comes because of the revolution of JIO in India. It is believed that it will take about five years to deliver 5G network in India due to their high prices. According to Ericsson, it is said that 5G subscription will come to India in 2022. According to the telecom regulatory authority of India (TRAI), India needs a good spectrum for working of 5G.
5G is the wireless network that can transfer speed in Gbps and it will use millimetre wave frequency. Thus, it will operate in 24 gigahertz band. The speed will be fast but it will be affected by it. This is also the main reason why telecom operators are not bidding for 5G spectrum. It will require them, correct frequency bands. Also, spectrum prices are very high and companies are still struggling over the prices.
5G Announcements
Vodafone partners with Nokia to deliver 5G Network in Australia. It is expected to roll out of its 5G network in the first half of 2020.
Realme confirms that it will release 5G phone in India by 2020 and will be the first company to bring 5G network in India.
XIAOMI launched Redmi K30, the first Redmi phone to support 5G.
Oneplus also focusing on 5G phones in 2020.
5G revolution will take the biggest step in India by 2020 but its adoption will take some time.
6G – 6th generation network
6g will be 6th generation wireless network and will provide much higher capacity and speed than 5G. The gold that is focusing on 6g technology is that it will take one microsecond for communication and it will improve location awareness and image processing areas. It will help to work with advanced technologies and work with artificial intelligence capabilities. It will be launched from 2030 E and will take speeds in the terahertz spectrum. China already started research work on 6G Network.