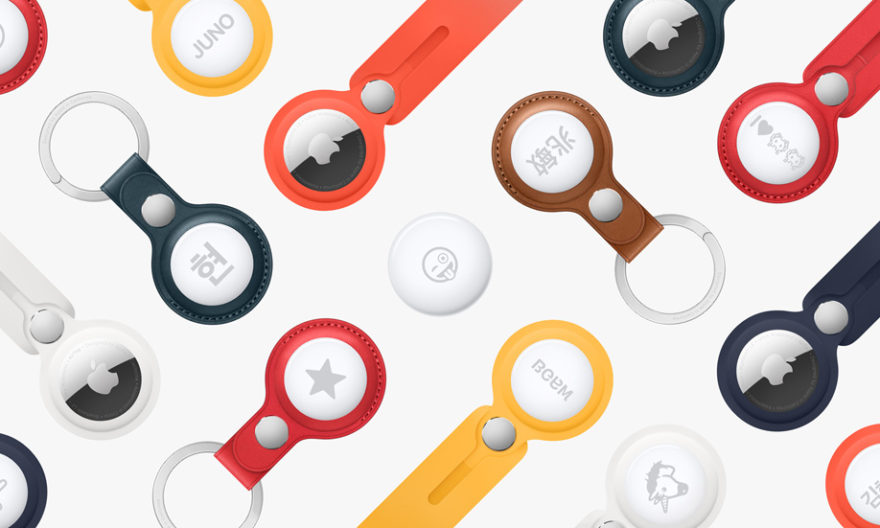 Image Source : Apple
In this month apple revealed its most awaited AirTags after so many rumours and speculation. Apple AirTag is a small circular device which is useful to track your personal stuffs. You can attach to anything you wanted to track and check where it is located from your iPhone device using find my app. So now the question is what is AirTags How to use AirTag, Release date, Pricing and much more. Now let's get deep dive into all the answers of this questions comes in your mind about Airtags.
What is AirTags?
Apple AirTag is small bluetooth tracking device which can help you to find your missing stuffs that matter the most. You can attach it to anything you want to track like your keys or any beg you want to track and don't want to loose that stuff.
Whenever you lost any item as an example you lost a key and AirTag is attached to it then you can easily find that key using find my app available in your iPhone.
Announcement and Release date of AirTags
Announced on 20th April 2021 at WWDC apple event.
Anyone can pre-order from 23rd April.
It will available at stores from 30th April.
Price of AirTags
If you want to purchase a single piece of AirTag then you have to spend $29 in USA and Rs. 3199 in India and if you want the pack of 4 AirTags then you can get it at $99 in USA and Rs. 10,900. in India.
Design of AirTag
It is a small button-shaped tracking device. Its circular shape differentiates them with their competitors. There are two sides of AIrTags its a glossy white one side and another is pure metal. AirTag has height of 0.31 inch and weight 11 grams. Its very light weight device.
You can also design your AirTag with custom emojis and personalize text while buying it from store or from Apple's Website.
AirTag Charging
It has a user-removable battery which last around a year so there is no need to charge that battery. It is a standard CR2032 cell only. That's why its easy to buy again whenever you want to replace it. For replacing a battery you just need to press and twist on the back panel of AirTag and remove a dead battery and add a new one.
Range of AirTags
Apple has yet not confirmed the range of AirTags but we can assume on our own based on bluetooth range. So bluetooth's maximum range is 100 meters, likewise AirTags can be trackable till that range.
You can place an AirTag in lost mode when its not showing into your find my app and it automatically notify if it comes into the bluetooth range.
How to use AirTags
AirTag setup is similar to how you pair your AirPods with your iPhone devices it almost took 20 Seconds to setup and connect your AirTag to you device. Here is the steps to connect your AirTag with your iPhone:
Open find my app in your iPhone which is preinstalled into your device.
Then you have to pair your AirTag with your iPhone device. For pairing all you have to do is bring your AirTag close to your iPhone.
Afterwards give your AirTag a name i.e. My home Keys or something which you desire and register it to your AppleID.
Once AirTag is paired with your iPhone device, you can see it under the items in find my app. You can see its current location or last updated location from there too.
You can attach the AirTags to any items you need to track like keys, your backpacks or your phone too.
Features of AirTags
Track your misplace items inside your bluetooth range.
Ask Siri to find your AirTag.
Play sound from inbuilt speakers inside your AirTag while finding them using find my app.
IP67 water and dust resistant.
It has Precision finding feature which guide you to find your AirTag more precisely.
It has U1 chip with Ultra wideband Technology which is available in new iPhones i.e. iPhone 11 & iPhone 12
Privacy and security
Each AirTag you have is linked to your Apple account so no one can track it.Any location history or location related data is not stored inside AirTags, and devices which used in finding AirTags stay anonymous and location data is end to end encrypted. So event apple itself don't know about your AirTag's locations its totally safe.
If someone wants to track you and put AirTag in your backpack or anywhere hidden near you then your iPhone gives alert that an AirTag is detected near you. If your AirTag is away from you for more than 3 days then it plays the sound and gives an alert about its presence.
How to buy AirTags or PreOrder
Apple AirTags are now available to preorder on apple's site and at major retailers shop. It will soon available on every apple's authorized store. If you want to custom your AirTag with engraving option you can buy using this steps below:
Go to apple's site and over there visit AirTags product page.
Choose how many AirTags you wanna buy.
Choose Engraving(Emoji or Text over the AirTag) if you want to add one.
Next save and continue to buy and add shipping details.
Summary
If you are using an iPhone and you have a habit of forgetting things after you put it somewhere then this gadget is best suitable for you. You can not prevent Apple AirTags from theft. Anyone who knows that AirTag is present in your stolen things then they just remove battery from AirTag so that you can't track that. But its best device for recovering the things you lost or may be it's near by to your house or around you.