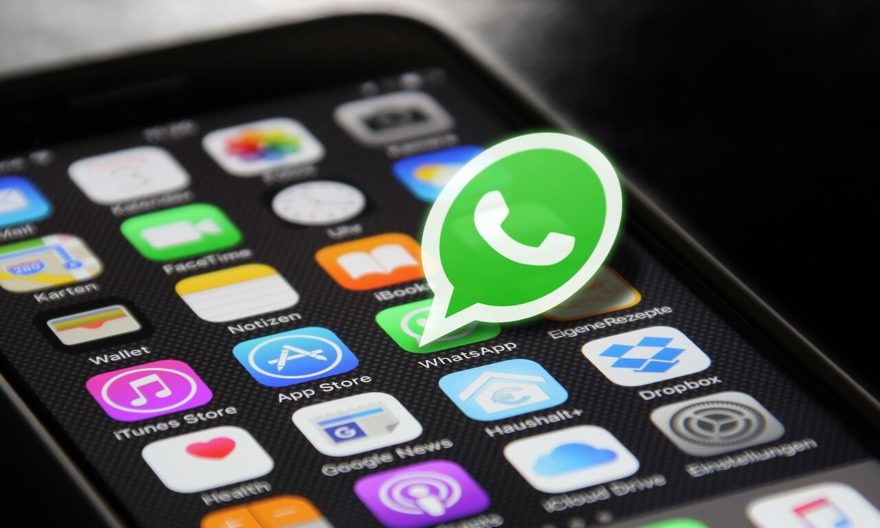 Many fears surround people. The familiar one is glossophobia, the fear of talking to strangers. It's not easy to speak in public places with strangers, and for those who are a loner or homely and lack experience, have a hard time talking to people. This nightmare can be turned into a wish to become a reality through an efficient internet connection, which has acquainted us with chatting apps. This online service is a boon for those people who had given up on their social skills and were in the path of being an escapist.
Nowadays, nearly every social media, games to online onboarding all have linked with web chat attributes.
Here are such apps that encourage you to get away from your anxieties about having a conversation with strangers.
1. Whatsapp
In the contemporary world of fast internet, social media's first choice is Whatsapp.
It has its theme –
it's between you.
This multitask app has focused primarily on online chatting services. The demand for video meetings to voice calls is susceptible to this app. It is available for all devices like Android, IOS, Windows, and macOS.
It has end to end encryption. There is also a message deletion and mute feature. It will hide the notifications from a specific group or an individual chat room. One can send better quality files, documents, audio, and videos.
It has been a constant companion for adults- having famous family WhatsApp groups and senior citizens. They can visually have talked to voice calls messages making the term stay connected with their people.
It furthermore helps the teachers assigning and notifying children and parents on essential dates or exam schedules. It's social friendly for friends as they can post stories, pictures, videos, songs, etc. as status that can be seen by their listed contact groups.It's a constant gossip wall for teenagers and youngsters.
2. Facebook messenger
The ringmaster of all apps. It owns Whatsapp, Instagram, Oculus, and of course, Facebook itself. It is available in Android, IOS, Windows 10.
This messenger app is familiar to many users. It's unnecessary to have a Facebook account to retrieve this app, and one can only create an account in messenger if one wishes to. Then you can online chat with folks, old or new anywhere in this world.
If you have a Facebook account with it. You can easily have more options to choose; for example, you can post stories about yourself and see others. You can share things like flight updates, news, location, recipes, etc. to more than one people and chat through the wall, comment box if you have an opinion to
Trading and posting advertisements like Olx, eBay can be done here too. Through this messenger app, you can send voice chats, media files, and video calls in groups.
It has end to end encryption too.
There are many games available in it you can play while conversing. It enables you to expand your friend list not just in one community but globally.
3. Telegram
If you want to have a private chat or group talk with no nuisance but more privacy then this in-demand messenger app is for you. It is used for learners and pedagogy purposes, people who want to have confidential chats with no invasion in confidentiality.
It has given utmost primacy on its security and high speed.It wipes away those media from the system within a few seconds or in a week automatically. Besides, it also has a Secret chat feature with its code to match with the other person that can open the chat room. You can randomly chat in chat rooms without any registration with strangers too.
4. Line
It's a social online communication app operated by more than 600 million people. It was built in Japan, owned by a Korean internet company. It's similar to Whatsapp having a wide range of features including voice, video calls, etc It has spread its roots to Thailand, Taiwan, and India also.
This communication app is something unique as it also owns Line games, for trades, there is Line Pay, for reserving cab-Line Taxi and making us update about the world it has Line Today.
It is a noted app for appealing lively stickers that pull in many users to use this app.
5. Viber
This online message app is a look-alike of Nimbuzz made by Microsoft. It helps to communicate through all the contacts and social network friends.
It is a free video call, voice call service even one can ring to a fixed home phone like Skype by paying a nominal fee. Users have no problem in installing as it takes less space in gadgets.
There are several sporty games with hand in hand conversation that makes people playful.
It also has stickers the same as other social chat apps. It is also parent-friendly where if used by children who must be above 13 years, they can be under surveillance.
6. Google hangouts
To have a hearty conversation with people, this app is decent to try. A match like Facebook where you need to have a Gmail account to get access to the software application, and you have to type the Gmail id or name of the person who has the id to start a talk.
It makes transmission animated by emojis, group chats, video calls, which is free. It is combined with other tools of Google-like drive files, calendars of your appointments and reminders.
Hangouts has added a feature to make your talk feasible by keeping it on Chrome, where just by a tap, you can go back to where your conversation had continued.
7. Zoom
When you think of work meetings or having a virtual gathering, zoom is the one who will be there for you. This End-To-End Encrypted communication tool prioritizes video calls, along with you can have frequent chats that you have the choice to send to everybody or privately.
You can be the host to 100-500 people. You will have a secure password and id that can be changed many times as you go for each new conference. From online onboarding to academics or free vocational classes, zoom app has attributes of conversation face to face or through typing.
It has a microphone where you can speak and a mute button to avoid letting your background noises during crucial discussions. It also can share screens to display like a whiteboard or files directly from one's device.
People also have celebrations like a birthday where many people can online wish together. It's similar to Skype in this sense.
8. Meetme
When talking to strangers in hope for a fling, you just have got a valid preference. It's a social web dating application that approaches a stranger and ends with a bonding. It was previously called a yearly book.
It is a unique app with its theme-"chat and meet new people. Meetme introduces you to people who are mostly strangers with whom you can brew up online texts. Like on Facebook, one puts up display pictures, posts biodatas one can do in here too so that any person can see and, if felt connected, can have a private chat with the other one.
These apps can attune to your communication skills, be in touch with your friends and relatives. It can help you spice up for flirting with strangers or make you have a hang out with new friends.
So keep swiping your fingers to enrich yourself to a playful and entertaining social communication through such online messenger apps.