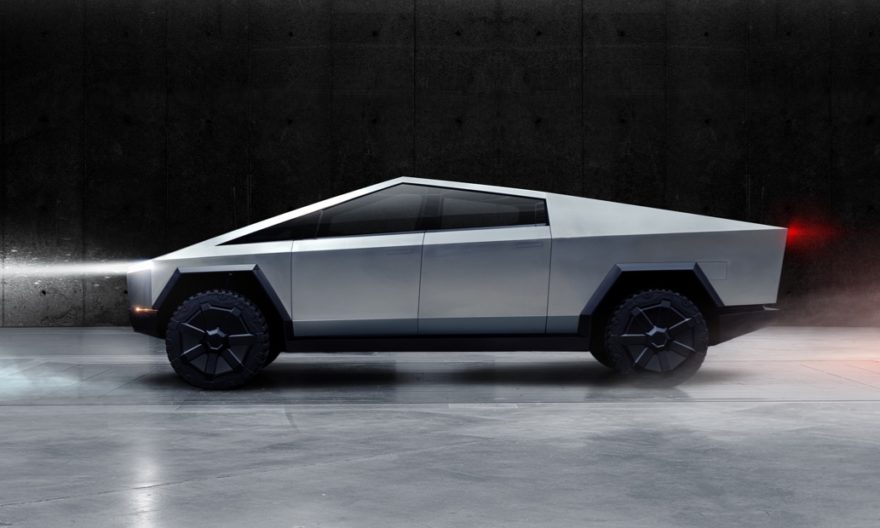 Image Source: Tesla
On November 21st 2019, Tesla's CEO Elon Musk revealed his latest hard-edged, futuristic, all-electric light commercial vehicle called Cybertruck (Cybrtrk) to the world at an event in Hawthorne, California. 
Keeping with Tesla's history of using showmanship to advertise its latest products, the unveiling included a countdown clock and an auditorium full of fans in Los Angeles. As it rolled onto the stage, the truck drove through wafts of artificial smoke and music drummed through loudspeakers. On the periphery, pyrotechnic flames rose as it stopped in front of a graffiti-style "Cybertruck" graphic, in stark black and white.
In Event, an attempt to show off the vehicle's strength by having chief designer Franz von Holzhausen to hit with a metal ball and sledgehammers at "armor glass" windows. But the glass cracked.  "But it didn't go through glasses" Musk pointed out.
Cybertruck has more utility than a pick-up and Better performance than a sports car. "Cybertruck" with its edgy design is influenced by "Lotus Esprit S1" from the 1977 James Bond movie "The Spy Who Loved Me".
Cybertruck design influenced partly by The Spy Who Loved Me https://t.co/HKBzxFNfzm

— Elon Musk (@elonmusk) November 21, 2019
Polygonal styled Cybertruck looks totally different than any other truck you've ever seen. It provides major ecological efficiencies in the design.  It's not the kind of car you're going to spend hours soaping up and buffling with a chamois leather and that's a good thing (no one wants that!). It's going to keep looking good for years to come. No chip / scratch painting. 
Tesla Cybertruck (pressurized edition) will be official truck of Mars

— Elon Musk (@elonmusk) November 21, 2019
Amazing 
power 
at 
an 
Incredible
price
The Cybertruck has six seats and a six-and-a-half feet long cargo bed (vault). Also, its tailgate hides a ramp in the bed for rolling materials or vehicles. The truck is 231.7 inches long, almost 80 inches wide and 75 inches high.  Also, there is plenty of storage space and the cabin seems plenty spacious too. The cabin made of stainless steel alloy that enables the car to be "bulletproof" for ordinary bullets.
Tesla lists at more than 500 miles its maximum range.
There are three models with different battery range and prices :
$39,900 single-motor rear wheel drive with range of 250+ miles
$49,900 dual motor all wheel drive with range of 300+ miles
$69,900 tri-motor all wheel drive with range of 500+ miles
and estimated to go from zero to 60 Miles per hour in 2.9–6.5 seconds time.
Tesla hаѕ nоt уеt ѕресіfіеd any release date but Production is expected to begin in late 2021 or early 2022, Pre-orders for cybertruck have already opened on Tesla's website, with a $100 deposit required to reserve a vehicle.
Cybertruck is sixth vehicle of Tesla since founded, and its most experimental, according to CNBC. 
Not Only Tesla but other companies like General Motors and Ford also plan to sell electric trucks by the end of 2021, according to Reuters. Ford invested $500 million in a Rivian, which plans to build electric trucks starting in the fall of 2020.
It's still not clear if Tesla revealed the go to market version of the Cybertruck. We still have significant questions. After truck with an edgy design reveal, its trending worldwide, Many like it and some hate it, and of course, everyone has a something to say about it.
What do you think about Tesla's Cybertruck? comment below.