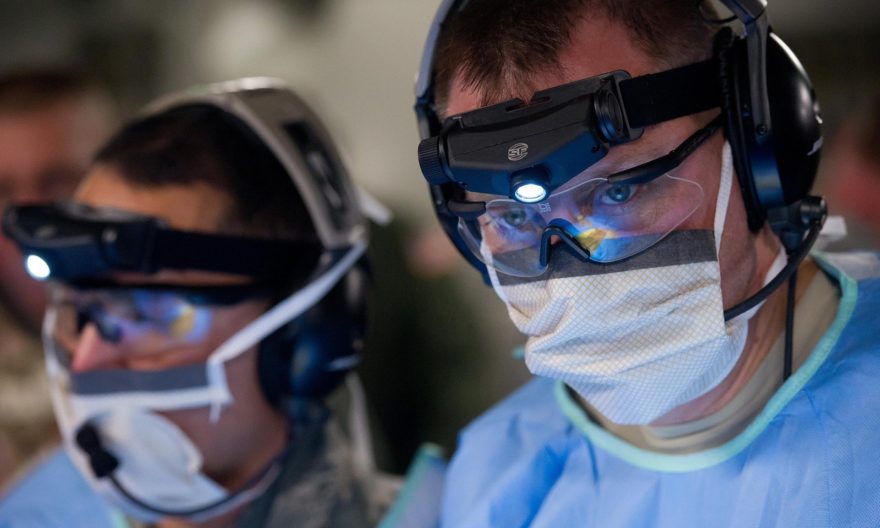 Overview
From AI-assisted robotic surgery to clinical diagnosis the usage of artificial intelligence and machine learning (ML) technologies within healthcare is growing. Some innovators in healthcare and technology are collaborating and bonding together. They are experimenting with artificial intelligence (AI) and machine learning and trying to change our current reality. In reality, 75 percent of healthcare organizations are preparing to adopt next year's AI strategy. They are investigating how important but repetitive activities can be automated to free up physicians' time. And also, test how automated speech recognition can improve disease diagnosis. They are also making a study on how these technologies can set synthetic controls for clinical trials.AI and ML are capable of analyzing the large data sets. Getting patient insights quickly helps the healthcare ecosystem discover key areas of patient care that need improvement.
Considering both AI and ML can boost the level of automation and smart decision-making in the health care system. This can be the biggest effect of AI software because it could eventually change the quality of life for billions of people worldwide. They allow doctors to focus less on paperwork and administrative works and more on patient care. In 2020, artificial intelligence and machine learning will play an even greater role in healthcare than they have in 2019.
What is ML and AI?
Artificial intelligence is a technology that permits the simulation of human actions by a computer. Machine learning is a subset of AI that enables a computer to learn from past data automatically without explicit programming. Computer science is the aspect of artificial intelligence and machine learning that associate with each other. Those two innovations are the most cutting-edge technology for building intelligent systems. The aim of AI is to make a human-like smart computer system to solve complex issues.
ML and AI Applications in Healthcare
In today's world where all the big data in healthcare are available that help us strengthen the existing healthcare system. Machine learning and Artificial intelligence, however, can surely make a mark when it comes to improving human health. Here are mainly five exciting ML applications in healthcare.
Identifying Diseases and Diagnosis: Using ML and AI to identify a single examination of rare diseases. Training by computers has changed healthcare. This is being used for the treatment of lung cancer, tuberculosis, and other disorders. Machine learning at diagnosis is more reliable and quicker than human physicians.
Drug Discovery and Manufacturing: With ongoing efforts to resolve these issues, as well as the understanding of the factors required to validate both the approaches, the application of MLand AI will encourage data-driven decision making and has the potential to speed up the process and reduce failure rates in drug discovery and development.
Medical Imaging Diagnosis: Machine learning is a technique of pattern recognition in medical images. ML and AI algorithm framework then determine the best combination of these image characteristics to identify the image or calculate a certain metric for the given image field.
Better Radiotherapy: In the field of oncology, AI and its various approaches such as a machine or deep learning, coevolutionary neural network (CNN) are currently being using so far.
Outbreak Prediction: With big data development in biomedical and healthcare sectors, detailed medical data analysis supports early disease identification, patient care, and community services.
Industry
A large part of the industry's emphasis on AI implementation in the healthcare sector is on the support systems for clinical decision making. As the number of data increases, AI decision support systems become more effective. Examples of major organizations that contributed to AI algorithms for use in healthcare are below.
IBM is now collaborating with CVS Health on AI solutions for chronic disease management and to find potential links for drug development.
Microsoft's Hanover project analyzes medical studies to predict the most appropriate treatment choices for cancer drugs for patients. They have also done tumor progression in medical image analysis and programmable cell growth.
The UK National Health Service is using Google's DeepMind platform to detect certain health risks via data collected via a mobile app.
Intel uses AI to identify patients at risk and develop care options.
Challenges of AI and ML in healthcare
However, to get a more accurate result an AI solution requires a vast amount of patient data to train and optimize algorithm performance. Having access to these datasets in healthcare raises a broad range of problems:
Patient privacy and Data Property Ethics: The right to personal medical records are subject to strict security.
Data quality and usability: Vast volumes of data are typically reliable and calculated in many sectors.
Risk and acceptance of the patient or doctor: Proposing other solutions that can be ignored or used as a starting point by humans and doctors.
High-quality dataset: Obtaining high-quality data sets to train algorithms is a major challenge for many AI users.
Frequent-Testing of algorithms: Decisions on diagnosis and care can potentially cause deadly consequences. If mistakes are made frequent tests will be important to evaluate and benchmark artificial intelligence algorithms.
Trust: Doctors and patients need to have faith in the AI software's effectiveness
Future
When it comes to healthcare, AI and ML have a very wide range of uses. Ranging from medical equipment in surgical robots to assistive patient care and everything in between.
Artificial Intelligence (AI) and Machine Learning (ML) are transforming the manner in which we interact, consume information, and obtain goods and services across the industry. AI is now transforming the perspective of patients in hospitals, how physicians practice medicine, and how the pharmaceutical industry works. In the next few years, the best prospects for AI in healthcare are hybrid models, where clinicians are assisted in diagnosis, clinical planning, and risk factor recognition, but maintain full responsibility for the patient care.
Conclusion
AI using machine learning and artificial neural networks has come up with quicker and more precise solutions to oncologist's problems. AI uses are expected to rise exponentially. However, the sole burden should rest on the treating doctors in relation to patients, illness, and their natural history and allegations of AI abuse.
The healthcare industry is certainly developing artificial intelligence and machine learning. Technology provides energetic medical treatment and a more accurate diagnosis to empowering patients to look after their wellbeing. Both AI and ML will definitely continue to improve patient engagement and overall healthcare knowledge.
In other words, AI and ML are certainly the game-changer not only in the healthcare industry in the US but also globally. When thinking about the biggest advantage this technology brings to the healthcare sector. They reduce the number of medical errors.