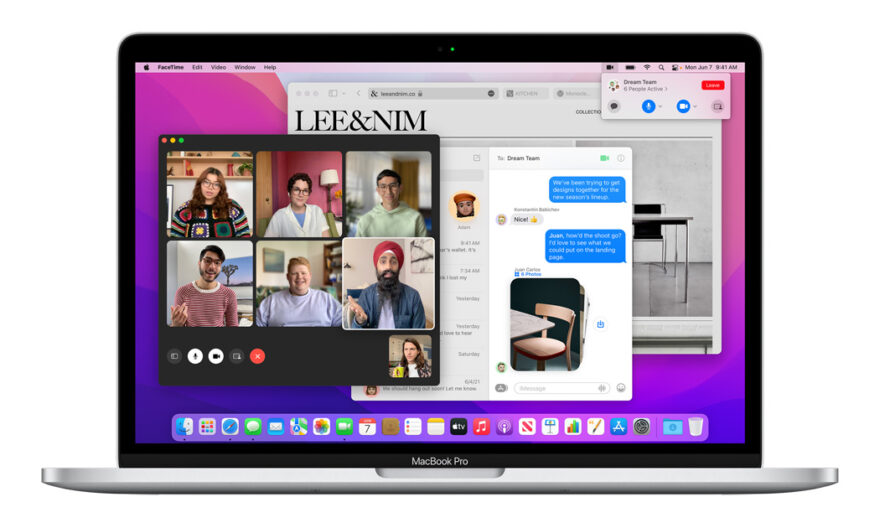 Image Source : Apple
Apple's macOS Monterey public beta is available now. WWDC announced this year, the 18th major macOS update isn't adventurous as compared to its previous versions. But it is a satisfactory OS update with a bunch of surprising features. The former update includes FaceTime and Safari updates but this newer version keeps the user experience first, with easier workflow and fewer distractions.
Remember, its just a beta testing OS for developers
Until this September, Monterey remains the unfinished apple product. You can sign up for the beta update program from apple's public beta software program. As per tradition, beta is not a very stable OS so before installing just make sure you take a backup of your current version. Another thing you can install that into the second device just for testing and checking new OS update.
macOS Monterey Powerful features
Now let's get dive into the best features of the new macOS Monterey.
1) FaceTime and SharePlay
For the first time in apple's history, Apple allows Android and Windows users to join FaceTime calls. Non-apple users can't start a new call they just join the web link using their browser. If you want to schedule a FaceTime call then you can integrate Calendar.
FaceTime now comes with a new grid view layout in which we can see every people on the same side tiles. If you are running a macOS with an M1 chip, you can blur your background in your FaceTime call.
SharePlay feature is designed to watch movies or Apple TV together with your family and friends. If you planned to watch a movie with your friends but they can't come to your home due to this pandemic, then you can call your friends on FaceTime and watch the movie together. Other participants in a call can sync playback and volume automatically adjust so you can have a talk and watch at the same time.
To make the user experience even better FaceTime supports spatial audio. This makes the individual voices of the participants sound like they are coming from the directions where that person is positioned in the FaceTime call grid.
A new voice isolation feature comes with minimal background noise which is helpful to focus on your voice more. When you try to speak and if your microphone is mute then FaceTime will let you know that you unmute your microphone.
With the screen share feature, you can choose that you want to share a particular app or you want to share the entire screen. This feature is ideal while you are sharing your screen with your coworkers.
2) Messages – shared with you
"Shared with you" feature in the messaging app separates the content you've received in messages and puts it inside the relevant apps. If someone shares apple music then it will go inside Apple Music app and if someone shares a website link then it will go in safari browser and shows inside "Shared with you" section.
This feature applies to the content of the photos app, Safari Browser, Apple news, Apple podcasts, and Apple TC apps. In all the apps listed, you can find a shared with me section and by clicking on that particular shared thing you can navigate to a particular person's message app and respond to them directly.
3) Shortcuts app
Shortcut app was first introduced in iPhone and iPad now available for macOS too. So you can access all of your favorite shortcuts. There is one mac specific shortcut that is available in Gallery or you can create your own.
We can run shortcuts from the Dock, Finder, Menu bar, or using Siri too. These shortcuts are universal like if you have created it from your iPhone, you can also access it through your mac.
4) Universal Control
One of the handiest features coming in macOS Monterey. It allows you to use a single control across multiple devices. For example, if you have an iPad and MacBook pro then you can use your MacBook's mouse, trackpad, and keyboard to control your iPad.
You can also drag and drop content from one device to another device. The universal control feature doesn't need any prior setup it works automatically when 2 apple devices are next to one another.
5) Notes with Quick note
There is a new quick note feature for jotting down a quick note no matter what you are doing. Just place your cursor at the very bottom of your screen one icon of note will popup. By clicking on that icon you can add one quick note. That quick note will be saved inside a dedicated folder in a notes app. Quick notes can be accessed universally too.
6) Maps
Maps app added new highlighting roads, trees, and buildings. It is limited to major cities like San Francisco, London, New York, and Los Angeles.
The New 3D view experience also added an inside maps app that shows the 3D view of best momentum like the golden gate bridge. You can pin your route and apple has improved search results also. Apple redesigned places cards inside maps added more details about business and user profiles.
7) Focus mode
In macOS Monterey, apple introduced focus mode. It's a tailored version of Do not disturb. It helps to focus on what you are doing at the current moment and blocking another distraction.
For example, you can set "work" mode to block notifications from non-work-related apps so it will help you to concentrate more on your current work. Some build-in focus modes are Driving, Sleep, and you can create your custom focus mode.
If you have enabled focus mode and someone tried to message you, you will be notified that your notifications are silenced. If you set focus mode on your iPhone it will automatically sync with your other devices.
8) Live Text
A surprising feature of the current macOS version is live text. Using this feature you can select or copy text from the images you captured. You can copy text from a photo and paste it into another app you want. Live Text works on both handwritten and typed text. It also supports URLs, mobile numbers and emails, and more. One can tap on the phone number and get the interface to call or text that person.
How to download mac os Monterey and install it
Make sure you backup your mac before installing this new beta OS. It is fairly easy process to download and install new os but you have to be very careful for your data inside that system. Steps to download macOS Monterey :
Visit developer.apple.com
Click on Discover
Click on MacOS
Scroll down and click on install macOS 12 button
When download completes you can double click macOSDeveloperBetaAccessUtility.pkg that will run the installer
Follow the below steps to install mac OS :
After downloading that pkg file click on continue
Check apple terms & condition checkmark
Finally click to install button
Your system will reboot once. You can see apple's logo with a black screen in the background for some time
Compatibility
macOS Monterey is compatible with many of the macOS which already run on macOS Big Sur. But it drops support for some older MacBook and iMac models from 2013 and 2014.
iMac – 2015 or later
iMac Pro – 2017 or later
MacBook Air – 2015 or later
MacBook Pro – 2015 or later
Mac Pro – 2013 or later
Mac Mini – 2013 or later
Conclusion
macOS Monterey will soon release these amazing features as discussed in the latest WWDC video from apple developers. You can check more blogs related to apple from here.